Switching engineered for 1G AV over IP with rear-facing ports ensuring a clean integration in AV racks. Pre-configured for out of the box functionality!
Groundbreaking AV GUI
A simplified user interface makes it easy to assign configuration profiles to each port.
Multicast in an Instant
NETGEAR IGMP Plus™ provides multicast functionality right out of the box for most AV over IP applications.
Sleek, Quiet Design
Less fan noise, and mounting ears included for under-table or wall mounting.
Automatic Configuration
Auto-trunk and auto-LAG functionality auto connects with other M4250 (and M4300) switches.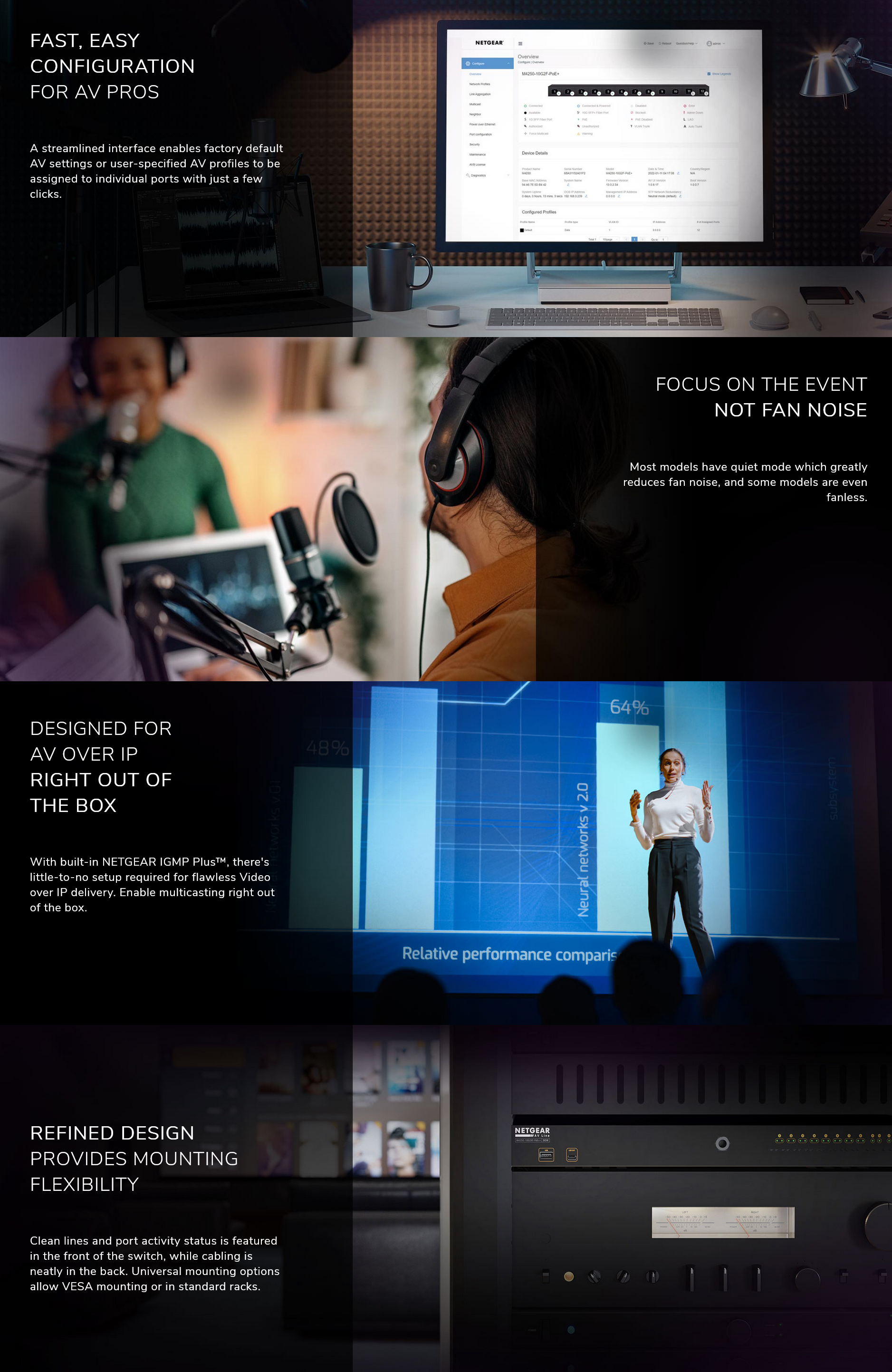 Primary Port Speed : 1 Gigabit
Number of Ports : 48 (40x 1G PoE+, 8x SFP)
PoE Ports / Budget : 40 PoE+ (30W/port), 480W Budget
IGMP Support : Enhanced (NETGEAR IGMP Plus™)
Jumbo Frame Support : Yes, up to 12kb
AVB Support : Yes. Electronic license required, activation key sent via email (AVB4248P-10000S).
Acoustics : Fanless or 47dB@25ºC
Power Consumption : With PoE: 624.8W/2133.07Btu/hr; Without PoE: 59.5W/203.13Btu/hr; Standby without any port connection: 46.4W/158.41Btu/hr
Third party support : Domotz
Dimensions (WxDxH) : 440 x 400 x 43.2 mm
Weight : 5.85Kg (12.9lb)